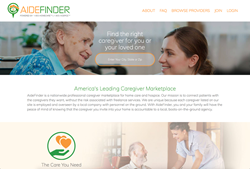 AideFinder is the bridge the market has been looking for between the traditional agency model and the consumers' desire to shop for caregivers directly.

New York, NY (PRWEB)
April 12, 2017
1-800-HOMECARE™ today announced the release of a groundbreaking caregiver marketplace, called AideFinder, set to redefine how patients and providers find and connect with one another. AideFinder gives patients greater choice in care by allowing them to compare local providers through the caregivers they employ. The goal of AideFinder is to provide patients seeking care to have the choice offered by freelance labor services while placing the onus of regulatory compliance on local providers. Regulatory issues are what have caused a lackluster performance of freelance labor services in the home care industry, and caused the recent closure of the startup Home Heroes.
"AideFinder is unique in how it connects patients with home care providers," said Christophe Adrien, Director of Business Development at 1-800-HOMECARE™.  "The app gives patients and their families the ability to browse local caregivers with the peace of mind that these caregivers work for a local, boots-on-the-ground agency."
AideFinder avoids the pitfalls of the freelance labor market in home care by leveraging the existing pool of thirty or so thousand local providers already in place. One of the major accomplishments of the app is it gives patients the choice they are looking for, which is to shop directly for caregivers, while ensuring they find the best caregiver for their needs through an agency who will conduct a comprehensive intake consultation and assign to them their best match. This will give patients and their families peace of mind to know that they will receive…