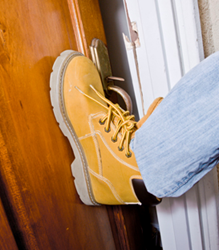 People don't realize that unless they reinforce their doors, they might as well be leaving them open.

(PRWEB)
April 05, 2017
Three teenagers were shot and killed in a small Oklahoma town last week. The teens broke through a door, attempting to rob a house that they thought was empty. It is reported that the son of the homeowner, who happened to be at home, confronted the teens and opened fire with a semi-automatic rifle. All three of the would-be burglars were killed. Police later apprehended the get-away driver. The Wagoner County Sheriff's Office has stated that the deaths appear to be the result of self-defense.
In the eyes of the law, and many who have watched this case unfold, this killing was totally justified. However, three mothers will bury their children this week and a 23-year-old will live the rest of his life trying to deal with the fact that he killed three kids. "Everyone wants to believe that they would love to play the hero and shoot an intruder that breaks into their home," said security expert and Armor Concepts CEO Alan Young. "The sad fact is that killing someone, whether it is justified or not, will change your life forever."    
Young points out that while it is easy to justify why a thief may deserve this punishment, the consequences for the shooter are often more severe than most consider. "Reportedly, the first question that the shooter asked was 'are they going to be ok?' While it is natural to want to defend your home, living with the fact that you killed three teenagers will not be easy," said Mr. Young.
Perhaps the worst part of this tragedy is that situations like this are often avoidable. "In many cases, it takes intruders about 10 seconds to enter a home. In that little bit of time, the homeowner must find their…