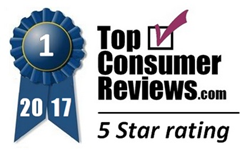 Since 2006, Baseball Savings has been providing high-quality baseball equipment, team apparel, and fan paraphernalia online… In 2017, Baseball Savings is our top pick for online retailers of Baseball Equipment.

Overland Park, KS (PRWEB)
April 13, 2017
TopConsumerReviews.com recently gave a best-in-class 5 star rating to Baseball Savings, a leader among online Baseball Equipment retailers.
Baseball is still beloved as America's pastime. Whether a person is a long-term baseball player, or shopping for their child's first Little League gear, it's important to have the right baseball equipment. However it can be hard to find the perfect glove, bat, or uniform once the season has already begun. Most sporting goods stores only carry a full line of products at the start of the baseball season, leaving customers high and dry if a need arises later in the year. There are a surprising number of online retailers who carry baseball equipment year-round, and at prices that are often the same as or better than what can be found in a traditional brick-and-mortar store.
"Since 2006, Baseball Savings has been providing high-quality baseball equipment, team apparel, and fan paraphernalia online," described Brian Dolezal of TopConsumerReviews.com, LLC. "Their easy-to-use website makes it very easy to quickly find what you're looking for, and their pricing is extremely competitive within the market. Shipping is reasonable – $6.99 on all orders under $99, and free for orders of $99 and up – and customers have 30 days to return any unwanted items for a full refund. We were most impressed by how quickly Baseball Savings ships orders to their customers, with delivery often happening days earlier than originally promised. In 2017, Baseball Savings is our top pick for online…