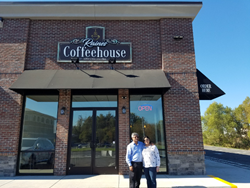 There's much more to running a successful coffee shop than knowing how to brew coffee and make espresso-based drinks. It's a tall order to master all the elements of running a small business while simultaneously learning the specialty coffee business.

Columbus, Ohio (PRWEB)
April 12, 2017
Columbus, Ohio Coffee Roaster Crimson Cup Coffee & Tea recently welcomed Raines Coffeehouse to the group of independent coffee shops, cafés and bakeries it supports in 29 states. The shop at 2725 James Sanders Blvd, Ste E, in Paducah, Kentucky opened at the beginning of November, 2016.
"We're excited to welcome Owner Indrani Bose to the Crimson Cup community," said Greg Ubert, founder and president. "Training entrepreneurs to run their own independent coffee houses is a big part of our success as a coffee roaster and coffee franchise alternative."
Raines Coffeehouse serves a full menu of hot, iced and frozen espresso drinks – including mochas, lattes and cappuccinos – as well as iced coffee and tea, cold-brewed coffee, hot chocolate, fruit smoothies and other custom drinks.
Raines is the first coffeehouse in Paducah to feature a Modbar pour-over module, which brings precision-temperature water and convenience in brewing high-quality pour-over coffee. It also has a nitrogen tap system for serving up Crimson Cup's Nitro cold-brewed coffees. Heart-healthy oatmeal, breakfast sandwiches, fresh-baked muffins, scones, coffee cake and other sweet treats round out the menu.
Inside, comfortable chairs and tables invite customers to gather and enjoy their coffee. Armchairs flanking a gas fireplace offer an appealing space for conversation or to curl up with a good book.
"For us the coffeehouse experience is much more than just enjoying a beverage," Bose…