There's a new refrigerator you can see inside even when the doors are closed. It's from LG, it's called the InstaView, and we got the chance to try it out.
The idea behind the InstaView is simple enough: An opaque glass panel covers one half of the refrigerator door. Knock twice on it and it goes clear, giving you a view of what's inside. That way, you can see what's in your fridge without opening the door—but you can also conceal the mess inside your fridge when you want to.
Currently, LG offers two InstaView fridges: the 30-cu.-ft. LFXS30796D standard-depth French door, and the 24-cu.-ft. LFXC24796D counter-depth French door. (Two four-door French door models are coming soon.)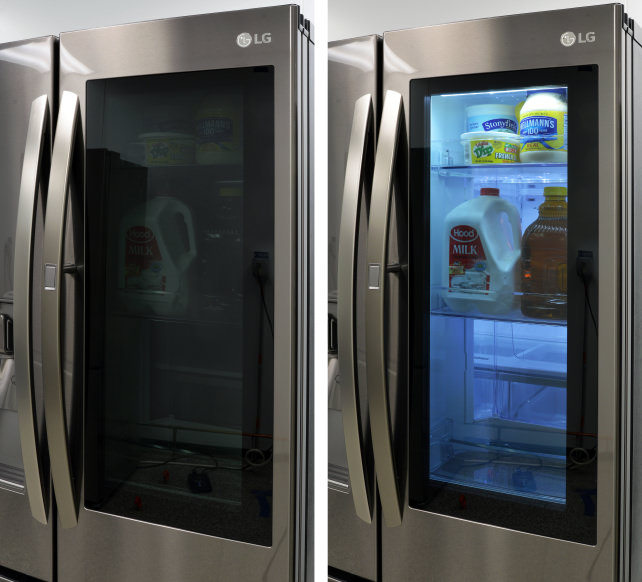 Should you put one in your kitchen? Well, after more than two weeks spent living with an InstaView-equipped refrigerator, I have some opinions—and some reservations.
Before I even took it out of the box, the first thing I noticed about the see-through fridge was its price: Both InstaView fridges retail for $3,549 on sale. That's a lot—especially considering we've seen sale prices on a similar LG fridge without InstaView drop as low as $2,499, which means you're paying up to $1,100 extra for one feature.
Once it was installed, the next thing I noticed was color. Currently, LG only offers InstaView on fridges with its special black stainless finish. In theory, it should complement traditional stainless—but it will never be an exact match.
Even though InstaView buyers are paying top dollar for a front-row seat, the tiny window only offers an obstructed view.
Tweet It
Not only is it expensive, I couldn't even get the window to work consistently—and neither could our other reviewers….