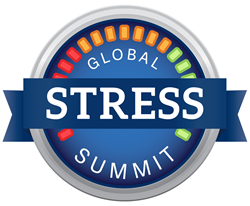 We need to clearly define stress so we can help people shift it successfully

Free global event, online (PRWEB)
April 11, 2017
Caught in the grasp of our current stress epidemic, too many people are taking a serious hit to their health, happiness, and performance. The American Institute of Stress is hosting this Global Stress Summit (April 24 – May 1) to offer expert guidance on building resilience and transforming burnout. Daily summit themes include the history and biology of stress, brain and mindset, body and lifestyle, workplace stress, relationships and spirituality, and practical tools to tame stress (humor, neurofeedback, storytelling, music, sound therapy, heart rate variability, meditation and breathing exercises).
Our Serious Stress Problem

~Unmanaged stress correlated with 75 – 90% of all medical visits.

~Chronic stress increases the rate of cognitive decline, and speeds up the development of dementia and Alzheimer's disease.

~The economic burden of stress on US business estimated at $600 billion annually, and rising.
Unfortunately, the way we use the word stress as a catch-all for everything that's bad in life just makes matters worse, leaving people feeling helpless and out of control. It's time to change the conversation. The American Institute of Stress (AIS) is leading the charge to help individuals and organizations change their relationship with stress:


understand how stress can be a stimulus for growth and positive change

learn to balance demands with your capacity, avoiding the potential damage from unchecked stress

recognize and experience practical daily tools that will build a resilient mindset
The American Institute of Stress (AIS) is dedicated to teaching how to perform optimally in the…