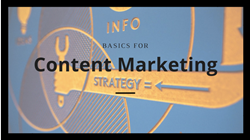 Content marketing…is about creating content that is valuable, compelling, and always relevant.

Austin, TX (PRWEB)
April 12, 2017
Magnificent Marketing is excited to announce that they've teamed up with expert Joe Pulizzi of the Content Marketing Institute on a webinar featuring the new basics of content marketing.
1. The Evolution of Content Marketing
Content marketing is used to attract and retain customers. It is about creating content that is valuable, compelling, and always relevant. In addition, it is about consistency.
Over the years, content marketing has evolved into something that demands better quality and more engaging material. In this webinar, Pulizzi highlights the fact that content marketing is hundreds of years old, and it has been around much longer than the internet. In fact, he shared the example of The Furrow magazine from John Deere. That magazine has been in production for 120 years and has more than 5 million subscribers.
When Google tightened the strings on search engines and the content recommended by those search engines, social media started to play a role, and more importantly, the consumer took the reins. Now content is individually driven by the consumer—not the marketer.
Consumers can access information when they want it, regardless of where they are, thanks to their smartphones and tablets. No longer can companies or marketers just tell a customer to buy; instead, they need to flex their advertising power, engage the short attention span of today's consumer, and dive deep into "why" they should buy.
2. Content Marketing is Only as Good As the Investment
Content marketing has not been around as long as other…