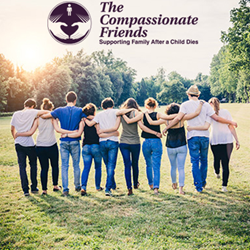 …neighbors helping neighbors is what we're all about here, and I can't think of any circumstances more life-altering than the death of a child.

Lake Orion, MI (PRWEB)
April 11, 2017
Mlynarek Insurance Agencies unveils the latest campaign in their celebrated 'Agents of Change' movement benefitting the families and businesses of Lake Orion, MI. The newest initiative supports The Compassionate Friends (TCF), a nonprofit organization that has been providing support to bereaved families after the death of a child for 40 years. Readers who would like to make donations to this worthy cause may visit https://www.crowdrise.com/showing-compassion-toward-families-experiencing-loss.
TCF's vision statement, 'That everyone who needs us will find us and everyone who finds us will be helped' is carried through almost 700 chapters in all 50 states, Puerto Rico and Guam. Whether it is a family who has had a child (of any age) die, or friends reaching out to help those who have, TCF provides friendship, understanding and hope to those going through the grieving process. Time has proven that in caring and sharing comes healing, and those who have gone through this singular experience need exactly that.
"Supporting local families going through difficult circumstances is exactly why we created our community involvement program," said Kevin Mlynarek, owner of Mlynarek Insurance Agencies. "After all, neighbors helping neighbors is what we're all about here, and I can't think of any circumstances more life-altering than the death of a child."
From their two offices in Lake Orion, the Mlynarek team is hard at work promoting the initiative through social media channels and an email and text message outreach campaign. They have also dedicated a full page of their vibrant…