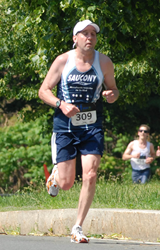 On one of sport's biggest stages, these runners are proving the potential of people with disabilities everywhere.

Brookline, MA (PRWEB)
April 12, 2017
Which Boston Marathon team will have the biggest impact this year? We make a case for the inspirational Team With A Vision (TWAV), whose blind and visually impaired runners (and their sighted guides) include nationally and world-ranked elite runners with serious credentials. A few of the team's standouts are looking to make impressive runs this year.
Kurt Fiene is notably one of the top 500 fastest athletes taking part in the Boston Marathon, with a PR of around 2:50. Unlike the other runners in his corral, Fiene was born without irises. He has no vision in his right eye, and 20/400 vision in his left. He started running after graduating from college, and in 1994, he competed at the International Paralympic Committee World Championships, taking home bronze, silver, and gold medals. "My main goal with running is to promote causes for the visually impaired," Fiene says. "I want to give back to organizations that have helped me in my life." A former Men's Blind American Marathon record holder, Kurt is sure to set a blistering pace this year.
Aaron Scheidies has overcome more in his short life than many conquer in a lifetime. Born with a hereditary eye condition that slowly deteriorates his central vision, Aaron now has about 15% of the vision of a fully sighted person. Aaron has won the Men's Visually Impaired (VI) Division in the Boston Marathon the last three years, and has come close to breaking the Men's Blind American Marathon record time. He and Kurt Fiene have a friendly rivalry that spectators will be watching closely this year.
Having traveled around the globe and competed in nearly…