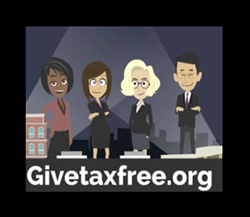 It all started with the concept of providing a way to help people that are in need while giving those who make donations the ability to receive a tax deduction.

Fredericksburg, VA (PRWEB)
March 24, 2017
Givetaxfree.org has formed a new donation based crowdfunding site named http://www.GiveTaxFree.org. GiveTaxFree.org was created to allow people in need to create a campaign and share it through social media like Facebook. The concept is simple: donors receive tax deductions and recipients receive their funds tax free.
GiveTaxFree.org is a non-profit fundraising site for people helping people. The company is a registered 501c3, approved by the IRS to issue tax deductions to campaign donors. This sets GiveTaxFree.org apart from other crowdfunding sites like GoFundMe. Another thing that sets this site apart is that GiveTaxFree.org requires less money to operate and so it charges significantly less. "After donating money to friends and family that had set up campaigns on other sites it struck me as strange that I didn't get a tax deduction for helping people in need. I did some research, and I figured out that the company they were using was a for profit entity, owned and operated as a business by very wealthy people. Their main objective was to make a profit, not to help people. So, I set up a non-profit entity specifically designed to take business from them," stated John Berardino, Executive Director. Givetaxfree.org does not pay its leadership a salary.
Individuals in need can visit the site to start campaigns for needs that they have but cannot provide for on their own. Good examples of qualifying campaigns are medical bills, housing, purchasing a car, funeral expenses, clothes, food, and living expenses; just to name a few. All…